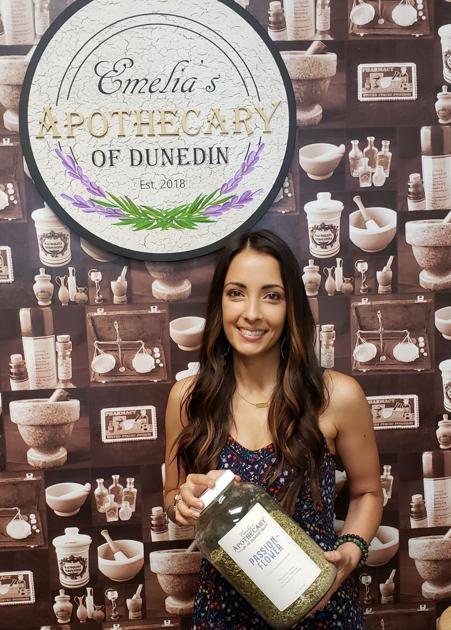 DUNEDIN — The tradition of being an apothecary dates to ancient Babylon more than 4,600 years ago.
That spirit of designing and dispensing herbal remedies is revived in more contemporary fashion at Emelia's Apothecary of Dunedin at 350 Main St., next to Café Alfresco on the Pinellas Trail.
The group's Instagram page notes the 6-month-old shop is "becoming a bridge to organic herbal medicine and remedies of old."
Four years ago, Elisha Smith and family decided to move to Pinellas County from Omaha, Nebraska, to live her dream of opening an apothecary where all the oils, tinctures, herbs, teas, salves and fragrances are organic, holistic or wild crafted in their indigenous regions.
A search for the perfect location led from Safety Harbor to Tarpon Springs and all over the county, before they found a home in downtown Dunedin.
"Downtown Dunedin was the most warmest and welcoming place. It's such an artistic community, where people are so open, positive and friendly," she said.
Being a vegan for 15 years, she said one of the reasons she loves Dunedin is because there are so many restaurants she can go to and enjoy several choices.
"No one looks at you like you are strange," she added. "You just don't have that in the Midwest," she added.
While it is very difficult to find available commercial space downtown, Smith said, they were lucky to find a shop near Café Alfresco that was being subdivided.
Smith said they opened their shop, named after 3-year-old daughter Emelia in November, and have been made to feel welcomed to part of the community ever since.
She explained her daughter "is the reason for all my hard work; the desire to empower her to follow her dreams is what inspired me to open the apothecary, a life-long dream of my own."
After much study and being true to the early apothecary tradition, she blends some of her own items to create everything from herbal facial masks, safe talcum powder with natural ingredients for babies and adults, bug bite salves and insect repellents without harmful chemicals, and chest rubs to sooth congestion.
"We never carry irritating, toxic or chemically-based ingredients," she explained. "All of our herbs and oils are organic whenever possible or wild-crafted within their indigenous region. I have poured hours into sourcing only the best ingredients for not only our in-house products, but for all of our do-it-yourself ingredients. Sometimes that means we won't be able to carry certain items."
One of the biggest misconceptions people have is that they are a bath and body or candle shop, or on the other side of the spectrum that they sell dangerous or poisonous items such as nightshade or belladonna, she added.
One thing that sets her apothecary apart from others, she explained, is people are made to feel comfortable about not knowing anything about teas, herbs, oils or other items.
"We want to educate everyone on the benefits of natural herbal ingredients and become a place of positive learning," she said. They offer classes on the uses and benefits of different herbs and oils that are announced on the shop's Facebook and Instagram pages.
Throughout the day many customers stop by looking for natural items that can help them relieve sunburn pain, reduce anxiety, provide relief from allergies, alleviate skin problems or help them relax so they can get to sleep.
On social media and in the shop, Smith strives to keep everyone informed about the latest information about everything herbal.
"The popularity of turmeric has soared in the last month," she told Instagram followers. "I don't doubt why because turmeric has some amazing properties."
"We've had a lot of customers coming in lately with allergy issues and there are many natural alternative herbal options when it comes to congestion and allergies."
She points out herbs that can be used to create a decongesting steam; a blend of sinus and lung clearing eucalyptus leaf and peppermint, steeped in a large bowl of hot water, can provide relief.
An item called Fire Tonic is an old herbalist remedy that may offer respiratory comfort, comprised of raw apple cider vinegar, spicy vegetables and herbs. They also feature a popular decongestion salve made without paraffin or mineral oil that contains organic menthol and camphor and can be applied to the chest.
For those who want to be good to their lips there is the popular vegan lip balm, made of vanilla bean-infused jojoba oil, combined with clove and benzoin for a rich hydrating lip balm.
Along with hundreds of herbal teas, Smith created a special herbal tea blend based on a popular Persian recipe that dates back centuries. She blends fragrant citrusy, minty, spicy, and herbal tasting cardamom, with orange tasting bergamot and black tea leaves, and sells it with tiny triangular saffron infused sugar cubes. Named Aunt Amelia's Persian Tea, after her aunt, it is traditionally served after meals.
"It's heavenly and takes me down memory lane," she said.
For those worried about dangerous cosmetic ingredients, the apothecary features natural mica mineral packets; it allows people to create their own cosmetics like eyeshadow, lip balm and highlighting powder for a shimmery glow. Mica minerals also can be mixed into soaps, candles and body lotions.
Then there are the natural remedies from the past, like lavender rice packs that can be heated or chilled to sooth aching muscles and joints, along with aroma therapy and specially scented home-made candles designed for specific purposes.
For a good night's rest, there are many herbal tea blends made of passion flower, hops, valerian root, skullcap, lavender and other "secret" herbs that can soothe a person to sleep, she said.
The shop also features CBD PM-brand items, with added melatonin, including oils and gummies to lull people to sleep.
According to WebMD, CBD is Cannabidiol, a non-intoxicating oil, extracted from the flowers and buds of hemp plants that has been used for epilepsy, anxiety and sleep disorders.
Smith said she is careful to note that she does not prescribe as a doctor, give medical advice or offer any of her items as a cure, but merely suggests and provides naturally occurring holistic alternatives to complement health choices.
"We are mindful to remind people buying herbal remedies to check with their doctor to make sure they are not taking medicines that can interact with the herbs or other items," she added.
The Apothecary of Dunedin also supports local vendors and features several items made in the area, such as necklaces and jewelry created by mom and daughter artists from Largo. Their cage necklaces hold a lava bead to add essential oils for a beautiful fragrance.
In addition, the shop features an artist's vintage style locket necklaces that have felt pieces inside the pendant upon which essential oil blends can be placed.
The shop also spotlights the expertise of local certified holistic health practitioner and herbalist, Sara Ratza, who provides informational talks and is available for consultations.
For more information follow Emelia's Apothecary of Dunedin on Facebook and Instagram. She said the shop's website, emeliasapothecary.com, should be online soon.
Source: https://www.tbnweekly.com/north_county/dunedin_beacon/article_fdcc7f92-6758-11e9-a541-bbcc1fc2c496.html