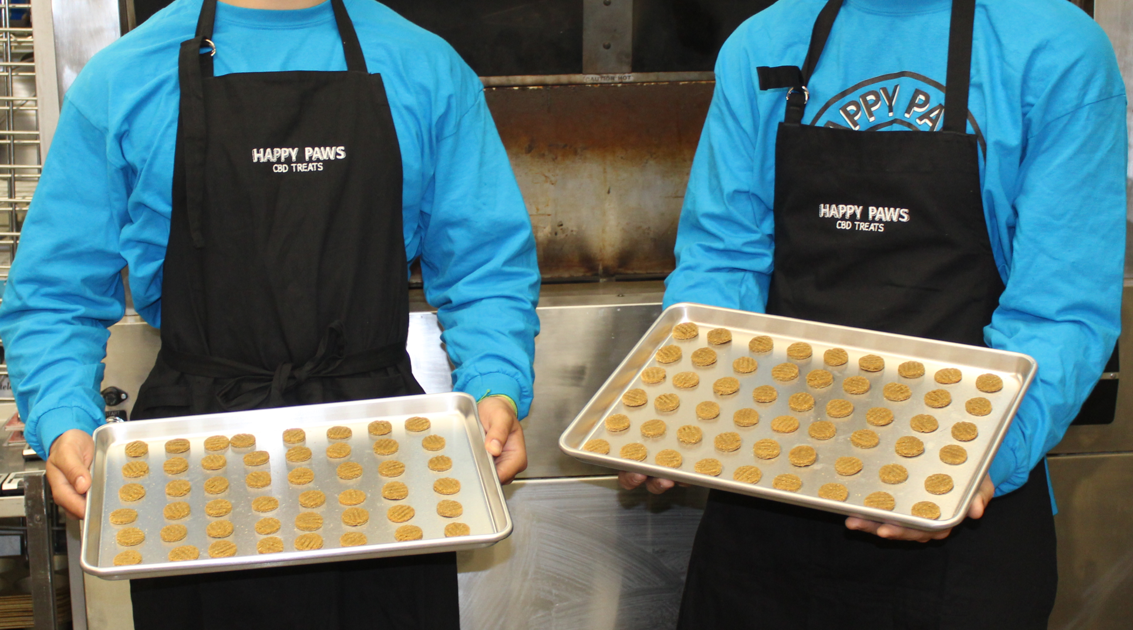 BRIDGEPORT — A Bridgeport startup company hopes to improve the lives of pet owners and their best friends with hemp-based pet products.
Happy Paws CBD Treats produces flavorful, all natural snacks infused with cannabidiol (CBD), a cannabinoid derived from industrial hemp that is thought to have numerous health benefits.
Owner Lee Arco said he and his team first began working on pet-focused applications for CBD about a year ago.
"We have a separate company where we have a license to grow (industrial) hemp. So instead of us just growing the hemp and selling it — we are around pets all the time; we have five or six dogs ourselves — we thought that surely there was a way to get the health benefits to the pets," he said. "So from there we just began experimenting with the oil and formulating a pet product recipe."
The company utilizes a special blend of oils to strengthen the intended benefits of its products, Arco said.
"A lot of the products on the market are using an MCT (medium-chain triglycerides) oils and really what that is just a dumbed-down help oil," he said. "The oil we use a full-spectrum, meaning that not only do we use hemp, but we use coconut oil and the coconut oil extracts from all of the cannabinoids, which is more beneficial."
According to information on the company's website, CBD is non-psychoactive and can be beneficial to numerous physiological functions such as inflammation, anxiety, appetite, digestion, mood and fatigue. CBD also contains antioxidants and fatty acids, which can have anti-inflammatory effects.
While many other CBD companies use imported oils in their products, all of the CBD in Happy Paws' products come from hemp grown at one of the company's two farms in Harrison County, Arco said.
"We grow the hemp, harvest the hemp and then process it into oil," he said. "Where Happy Paws comes in is that we purchase the full-spectrum oil (from our other company). From there, it's just like a bakery. We're substituting vegetable oil with the hemp oil and making the treats."
The company currently sells just one flavor of pet snacks, peanut butter, but other flavors are in development, Arco said.
"We have pumpkin flavoring in the works — that should be coming here in the next month or two," he said. "Then we are working on a meat flavoring and are working on a honey-flavored dog treat."
Presently Happy Paws sells its products on its website, but Arco said there are plans to open a physical location in the Bridgeport area.
"In the next six months, we'd like to open a brick-and-mortar store where you can come in to discuss the product, purchase the product and bring in your pets."
For every 10 bags of treats the company sells, one bag is donated to a local animal shelter, Arco said.
"We're hoping to enlarge that," he said. "We're working with local humane societies to see how it's going to benefit them."
Manager Anu Hookano said the Happy Paws team sees CBD pet products as both a good business venture and a way to improve quality of life for pets.
"Everyone takes care of and loves their animals, so we thought it was a good market," he said. "We also love our pets and our animals, so we just wanted to continue to try and make the pet world a better place."
He has seen numerous benefits from feeding his own pets the company's products, Hookano said.
"I'm often around a black lab that you could say has some anxiety issues," he said. "But if you give him a treat or two, in the morning and at night, he's just a completely different dog. He's a little bit more mellow, laid-back and relaxed. We also have a mastiff who has some hip issues, so muscle discomfort is huge. She is able to jog and walk around the farm a little more leisurely now."
Although CBD is starting to become more popular and several other businesses selling CBD products have recently opened in the county, Arco said his company has a "leg up" on the competition.
"Right now a good bit of companies are just jumping in; the landslide is coming," he said. "People are just trying to get in now, but we've been in the industry for a few years now, so we have a familiarity with CBD and what all it does. But widespread legalization is opening the doors and removing the stigma. I'd say that within the next five years, we'd like to see ourselves as a market-stable company, someone who's been in the industry from the get-go, that's selling a reputable, respectable product."
For more information visit www.happypawshemp.com.
Source: https://www.wvnews.com/happy-paws-cbd-treats-of-bridgeport-creates-unusual-products-for/article_35cabc06-79a7-526a-a395-cf6f92062053.html