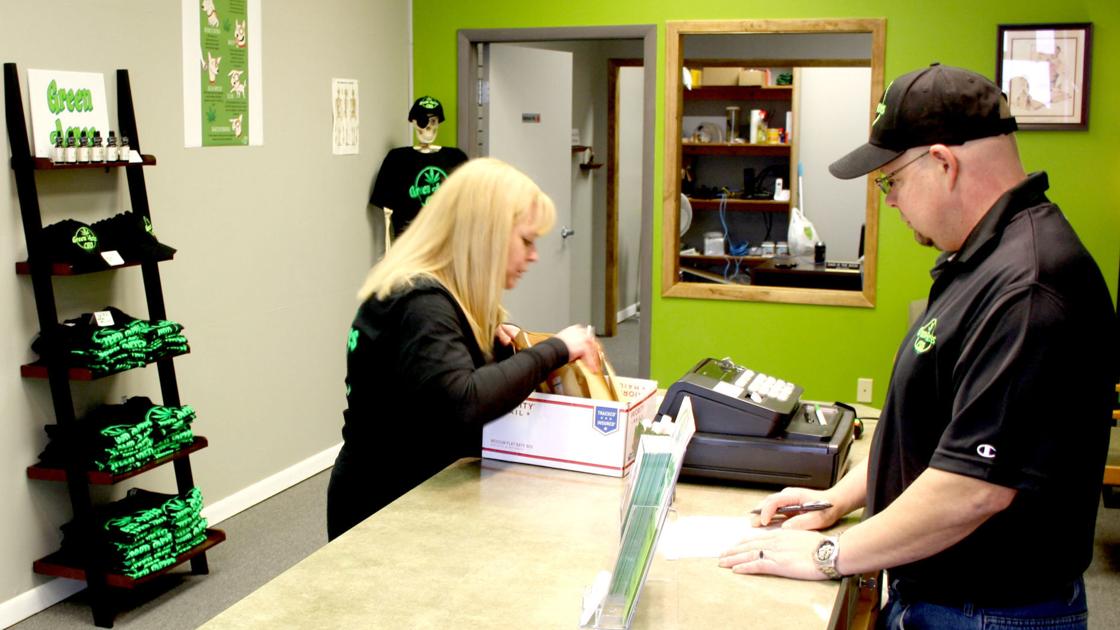 Green Acres is the place to be if you're shopping for cannabidiol.
Beaver Dam's new cannabidiol shop at 820 Park Ave. had a soft opening Monday and will have a grand opening Saturday. The store is run by Doug and Theresa Paust.
Cannabidiol, or CBD, is derived from the cannabis plant without the psychoactive effects that cause a high. The Food and Drug Administration has approved the use of a CBD medication to treat certain type of epilepsy.
Advocates for other products that contain CBD, like oils and lotions, swear by them anecdotally as a way to treat anxiety, inflammation, insomnia and other ailments, but scientific research on its effectiveness is still limited.
A change in Wisconsin law last year has turned hemp growing and CBD stores into growing businesses.
"I've been a pharmacist for the past 20 years, working retail, and we decided that we just wanted a change," Doug Paust said. "I was tired of the way that big pharma treats people as far as the pharmacy industry."
He said that he thought he could turn his experience as a pharmacist into a niche for his store, which sells a variety of products and merchandise.
"Oils are what they're famous for, in various strengths. The oils provide a whole body experience," Paust said. "However everything else we've got topical salves, roll-ons, lotions, gummies, candies. We've got teas, lip balms, shower scrubs. We'll have vapes and flower, which is technically the bud for the sophisticated user that likes to smoke the CBD."
The store will not sell to anyone who is under 18. A 500-milligram vial of CBD oil starts at $50. A 1.7-ounce butter is $30. Green Acres is emphasizing Wisconsin-made products.
Paust said that when a customer walks into the store, they will help figure out which product may be best depending on what the customer is trying to address.
"We're just trying to focus on the fact that my being a pharmacist gives people, especially those with questions with regard to their conditions or other medications they may use to get some true knowledge on whether this may be useful for them," Paust said.
Green Acres will be open Monday through Friday 10 a.m. to 7 p.m., Saturdays 10 a.m. to 4 p.m. and closed on Sundays.
Green Aces is not the only place in town to get CBD oil.
For example, Stacey Freber, who is also the manager at Freber's Jewelry, sells for a CBD oil company, saying that it has really helped her with anxiety. She said an event she held at Freber's recently sold out.
Source: https://www.wiscnews.com/bdc/news/local/cbd-store-opens-in-bd/article_29fb63a1-74f6-5173-838b-c101ab01c643.html